Blue Spruce Trees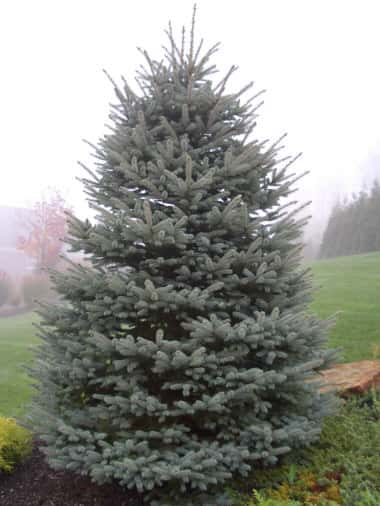 The blue spruce tree is referred to as the Picea Pungent in the world of botany and is classified as an ornamental tree that is widely cultivated in the United States. These are valuable assets in the deer country because of their prickly textures and strong aromatic pungent scent which makes them exceptionally resistant to deer. The Blue spruce tree is evergreen and it can lend a very interesting look to a barren land during winter. Because of their coniferous shape and pyramid structure, they make excellent Christmas trees.
It is common for people to purchase these young plants during Christmas to grow them indoor as beautiful Christmas tree and then move them outside when winter is over to grace their gardens and landscapes. If you live anywhere in zone 3-7, you can grow the blue spruce tree in the garden. This is the area where the spruce tree grows well and thrives.
The Height
The blue spruce tree can reach the maximum height of 30 feet-60 feet and spreads out to a space of ten to twenty feet. The trees don't have to be pruned to look gorgeous but if you choose to. You can prune it during spring. Colorado blue spruce trees can be grown in zones 3-7. These are considered as the loftiest among European trees, they are huge trees with a large bark with a diameter of about 6 feet.
The Uses during Ancient Times
The early American Indians harvested the frankincense off the Blue Spruce Tree which is a gum like resin which are gathered on the spruce tree bark when the tree is cut off. The spruce trees of the mountain of Sweden are revered to as the oldest living tree in the world and are estimate to be around 9,550 years old. The spruce tree has great intrinsic value and it was hailed as a prized possession during the World War II and it was chosen as the gift to the British by the Norwegians as a token of their friendship.
It is clear that the Blue Spruce tree has a place in society since the ancient times. Today, the coniferous tree with its silvery blue prickly leaves is mainly used as a decorative plant and is harvested in great amounts during the Christmas season. Obviously it has been a tree that fascinated mankind since the ancient times. New and innovative findings are also revealing other properties that the plant may possess such as healing purposes especially from the resin that is harvested from the spruce tree.
Blue spruce tree is also planted in rows as windbreakers. They are also known as specimen tree. Known for its beautiful attractive shade of silvery blue, it adds an interesting dash of color and drama to any landscape. When planted along the walkways, it creates a very relaxing and charming atmosphere anyone can enjoy.
Blue spruce is also harvested for its wood. It has long fibrous wood makes great string paper and there are many cultivate who actually cultivate the spruce especially for this purpose. Spruce wood is also unused as materials for wooden aircraft, high end musical instruments such as violin, guitar, mandolin, cello and the piano's soundboard. It is interesting to note that the first airplane belonging to the Wright brothers were made from spruce.
The wood has no inbuilt defense system that can protect itself from insects and decay resistant molds, it is important to give it the right treatment after harvesting. The wood must be treated and primarily used indoors. Spruce wood is beautiful and dramatic but it is not durable at all and can never withstand the harsh environments outdoors. When left outdoors, the spruce wood would only last for as long as year and half and then it becomes unusable due to decay and damage. There are wall panels made of spruce that are absolutely gorgeous to behold which remains testament to the beauty of the wood. Spruce wood is known in the timber industry as the North American timber or the acronym SPF which stand for spruce and pine.
Spruce has a long history of playing a major contributing role in the American economy. It is also a very important element in homes to beautify and add glamour and prestige to an area. Spruce wood is exquisitely beautiful and anyone can admire the natural texture and shade of the spruce wood. Spruce is widely used across any major industry as an important material for the development of many useful everyday items which enriches out lives. Truly the Blue Spruce Tree is a wonder gift of nature which is meant to be enjoyed, cherished and protected fur the current and future generation to enjoy.